Pan International will help provide a competitive advantage in your marketplace with our expert engineering resources, quick-turn sampling and rapid NPI, supply chain & logistical solutions, and flexible, responsive & Quality driven manufacturing, all adding up to a low total cost of ownership. Taking advantage of our vertically integrated manufacturing approach can, not only, lower total applied product cost, but significantly increase the time-to-market and time-to-revenue velocity.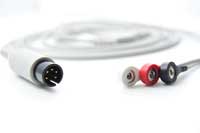 So, whether your market focus is Healthcare, Industrial, Automotive, Communication, Computing or Consumer, and whether your company is looking for manufacturing expertise for full complex turnkey systems/HLAs or simply require high quality components, such as cable assemblies, harnesses, PCBAs, bulk cable or connectors, you can trust that when you partner with Pan-International you benefit from over 40 years of experience providing cost effective, expertly produced products and services.
Learn more about our cable assemblies here!