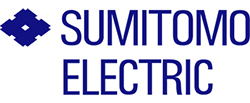 Sumitomo Electric is a leading manufacturer, seller and servicer of heat-shrinkable products worldwide. We supply product to a diverse range of customers in a variety of industries. These include the automotive, aerospace, appliance, communications, electronics, medical, and transit industries to name a few.
SUMITUBE® heat-shrinkable tubing meets all major commercial and military specifications including AMS-DTL-23053, UL and CSA. Materials available include polyolefins, flouroplastics, and elastomers. Single and dual-wall constructions are available. Read more here.
SUMIMARK® Marking System is a computer controlled thermal marking system designed to provide permanent alpha-numeric, barcode and graphic images on a wide variety of SUMIMARK® heat-shrinkable tubing products. Read more here.

Heat shrink moulded shapes
Heat Shrink Moulded Shapes, End Caps and Breakouts, unlined and adhesive lined, 2-way up to 6-way Outlet Shapes.
90°and 45° angle boots, Transitions, Y-outlets, VG-style shapes. End Caps and Breakouts for low voltage applications, two component epoxy adhesive and hot melt adhesive tape. Read more about the moulded shapes here.